Ranching in Guyana is one of the most historical, colorful and interesting parts of the life in especially the Rupununi. Ranchers, who were some of the first permanent settlers in the area, are now a part of one of the biggest industries today. The ranches of Guyana are kept traditional and fascinating in their way of life.

Spend 2 days in Lethem and 5 days in Guyana to experience riding on horseback over the savanna, spotting giant anteaters or rounding up cattle on this 7-day adventure.
Idiomas del recorrido
Vea de cerca la fauna y flora
Disfrute de fantásticas vistas aéreas
Flexibilidad de personalizar el itinerario con sus preferencias
Reciba consejos útiles de un habitante de la zona
Huya de los lugares que todo el mundo visita en un 4x4
Encuentro cara a cara con la fauna y flora autóctonas
The ranches of the Rupununi have kept themselves traditional in many ways. Hard physical work, combined with skills and experience, are still the main driving forces behind these fascinating places.

Come and experience the lifestyle by staying on a family ranch 2-4 hours drive away from Lethem. Embark on this 5-day experience down south to one of the most beautiful places in Guyana where there will be time to experience all the aspects of the life of the family.

Live in the ranch house or in one of their small self contained cabins and enjoy food cooked by the wife, known as one of the best chefs in the Rupununi. Every day starts early in the morning when the cool air and first light surround the savannas. You will get a chance to ride with the vaqueros to round up cattle and bring it back to the corral.

In the right season, the corall work is one of the best experiences. The vaqueros will catch the young cattle with lassos and bring them down to be branded by a burning hot iron. Participation is welcomed but practice caution. Giant anteater spotting is done on horseback. The horses gives a brilliant chance of getting up close to these majestic creatures since they don't seem to fear them as much as humans. Be sure to snap a photo for they are the biggest of their kind in the whole world.

The nearby creek can give you quite a relief from the midday sun where you can bath, fish or dive for fish in the clear water streaming from the mountains. At nighttime there is a good chance of spotting animals and if the boat is around, the son will be able to take you out on the river to spot some of the many animals living here at nighttime.

For the hardcore rider, a longer day or multiple-day trip can be arranged on horseback to Shiriri Mountain or even further away. However, this trip is not for beginners because vaqueros are both routine and riding fast. For experienced riders, this additional trip can be exciting and challenging!
---
Seleccione un mes para ver un calendario de disponibilidad y los datos de la salida.
Punto de salida:
Begins at the hotel in Lethem
Hora de salida:
Will be determined before tour
Duración:
7 días (aprox.)
Detalles de la vuelta:
The tour ends in Lethem
---
Haga clic en el siguiente enlace para ver los precios y la disponibilidad en la fecha de viaje seleccionada. Nuestros precios son actualizados constantemente para que usted siempre tenga a su disposición el precio más bajo posible.
---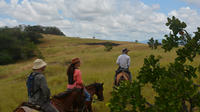 Riding the Savanna

Incluye:
5-day full accommodation at ranch
2-day accommodation on hotel in Lethem, no meals included
Transport by bus in/out
Transport from pick up point 4x4 in/out
Riding equipment
Helmet (Optional)
Lassos
Camelbak
Diving glasses and snorkel (if needed)
No incluye:
Personal travel insurance is required. Nobody is allowed to participate in the tour without being able to give policy number, emergency contact number and name of insurance company)
Transportation to ranch (optional. See Tour options)
Alcohol
Tips for guides
Any meals not mentioned in program
Any activities not mentioned in program
Información adicional:
Confirmation will be received within 48 hours of booking, subject to availability
Minimum age is 18 years
Not recommended for participants with back problems
Not recommended for participants with heart complaints or other serious medical conditions
Please note: You do not need a lot of stuff to participate at the ranch but there are a couple of things we would advise to bring to make your stay more comfortable. Remember, you cannot buy anything down there so you better buy your supplies in advance.
What to bring:
Pair of Jeans for riding (needs to be allowed to get messy)
Shirt for riding (needs to be allowed to get messy)
Riding shoes (Converse, snickers etc. can all be used but watch out for types with wide sole, you might get stuck in stirrups)
Hat (Cowboy hat for sun protection)
Sunscreen (the higher factor the better)
Small medical kit (you need to be able to look after small injuries like cuts and blisters from your own kit: You will need Zinc oxide tape, antiseptic wipes, assorted plasters, duct tape)
Bathing clothes
Besides that bring a couple of extra pair of clothes for nighttime
Personal hygiene (tooth brush, tooth paste, soap etc.)
Towel
Malaria Tablets (Talk with your doctor)
Mosquito repellent (50% DEET is sufficient)
Pocket money (Souvenirs, tips for guides)
Camera equipment (Remember to bring additional water protection such as dry bags for this! It is your own responsibility to take care of it in this environment)
Información sobre el vale
Para esta actividad puede presentar un bono impreso o un bono electrónico.
¿Qué es esto?
Información del operador local:
En su bono de confirmación encontrará la información completa del operador, en la que se incluyen los teléfonos locales en su destino. Nuestros jefes de producto solo seleccionan a los operadores más fiables y expertos en cada destino, para ahorrarle trabajo y asegurarle tranquilidad.
---
Todas las ventas son definitivas, y en caso de cancelación se cargará el 100% del importe.