From Surama village we will venture on to the Burro Burro river for the ultimate animal spotting opportunity.
The Iwokrama rainforest offers some of the best chances of spotting wildlife in the country and the river dramatically enhances the chance of doing so.
We will live in a camp by the river side and use the days on learning many of the forest secrets from experienced guides. We will fish for river monsters and a night time try to spot some of the many animals moving in and around the river.
We will try to catch caimans and tree snakes for close inspection.

Overall a tour for those who want to see as much wildlife as possible.
Idiomas del recorrido
| | |
| --- | --- |
| Guía | Inglés |
| Escrito | Inglés |
Vea de cerca la fauna y flora
Flexibilidad de personalizar el itinerario con sus preferencias
Experiencia única
Tour con todo incluido
Vea la fauna y flora autóctonas en su hábitat natural
Reciba consejos útiles de un habitante de la zona
This tour runs without a fixed itinerary and will be able to be customize after the individual wishes of the participants.

We will venture down the Burro Burro river near the village of Surama to experience one of the absolute best ways of spotting and seeing wildlife in the Iwokrama rainforest. We will get a chance of camping on several spots to go deeper in to this pristine rainforest and set up our camp and learn about living in this environment.

Typically during day we will try to fish some of the rivers giants, look for animal tracks, try to spot giant river otters or simply relax and save energy for the night time adventure. We can take 1-2 tours in to the forest on foot to see some of the plant life that are to be found in the forest and get acquaintance with moving light weight around.

The night time will be used for spotting animals along the side of the creek such as tapir, anacondas, labba, tree snakes among many more. If you wish, your guide can demonstrate traditional bow hunting after mammals if spotted and fish in the water.

Bring a good camera because you will not get a better chance of spectacular pictures of wildlife!
---
Seleccione un mes para ver un calendario de disponibilidad y los datos de la salida.
Punto de salida:
Surama Eco lodge, North Rupununi. Guyana
Duración:
9 días (aprox.)
---
Haga clic en el siguiente enlace para ver los precios y la disponibilidad en la fecha de viaje seleccionada. Nuestros precios son actualizados constantemente para que usted siempre tenga a su disposición el precio más bajo posible.
Burro Burro River trip

Código: TG1

Take with us on a trip of a lifetime when we venture deep in on a river trip on Burro Burro river starting from Surama. Bring a camera and let us show you th amazing animals of Iwokrama rainforest.

9 Days with flight

Código: TG2

We can arrange flight and transportation to Surama Eco lodge from Ogle airport Georegtown. This is an additional and follow the already made program.

11 days with bus

Código: TG3

We can arrange bus transportation to Surama Eco lodge from Georgetown city center. Transportation is 12-18 each way. Bus ticket alone. This is an additional and follow the already made program.
---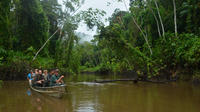 Burro Burro river

Incluye:
2-day on Surama Eco lodge (1 day prior, 1 day after tour)

7-day of guiding on the Burro Burro River

20 Meals and snacks (7 Breakfast, 7 Lunch, 6 Dinner)

Drinks (Tea, Coffee, cool aid)

Village fee

Transportation 4x4 in/out Burro Burro River

All boat transportation under tour

All activities as mentioned in program
No incluye:
Personal travel insurance (This is a must! Nobody is allowed to preform the tour without being able to give policy number, emergency contact number and name of insurance company)
Transportation to lodge (Can be chose. See Tour options)
Alcohol
Tips for guides
Any meals not mentioned in program
Any activities not mentioned in program
Información adicional:
Confirmation will be received within 48 hours of booking, subject to availability
Please note:
The jungle tours demand a list of equipment that should be brought to be able to make it as comfortable and secure as possible. We therefor ask you to detailed look through our list and make sure you bought the equipment prior to arrival. Guyana has a small selection available but quality can be different from the western hemisphere. All questions are welcome.
What to bring:
2 X outdoor pants (Daytime / Nighttime set)

2 X Outdoor shirt (Daytime / Nighttime set)

3 X Good socks (Trekking type)

3 X Underwear (Fast drying preferable)

1 X Good trekking boots (Jungle boats Preferable)

Head torch 40 lumens+ (possible to lent)

Batteries for Head torch

Backpack 70 liters+ (possible to lent)

Dry bags - 4 minimum 3 x 20+ liters 1 x 10-15 liters

Personal medic kit (you need to be able to look after small injuries like cuts and blisters from your own kit: You will need Zinc oxide tape, antiseptic wipes, assorted plasters, gloves, wound dressing x2, re-hydration sachets x 12, blister dressing, tweezers, scissors, anti-fungal cream, hydro-cortisone cream, foot powder, pain killers, Vaseline.)

Crocks (Yes you heard correct these gives your feet a chance to breathe and get air while protecting from spikes and bites)

Bathing clothes

Towels/Sarong

Malaria Tablets (Talk with your doctor)

Vaccination card

Mosquito repellent (50% DEET is sufficient)

Pocket money (Alcohol, tips for guides, snacks)

Foot powder (Anti fungal type)

Sun hat (Good for the time on the river)

Personal hygiene (Soap, Toothbrush, Tooth paste)

Watch (Waterproof type)

Camera equipment (Remember to bring additional water protection such as dry bags for this! It is is your own responsibility to take care of it in this environment)
You are welcome to bring your own stuff such as knifes, strikers, rucksacks. You can always ask of about the specification and if it is of any use.
What do we supply :
Life vest

Tarpaulin

Hammock

Mosquito net

Eating kit

Machete

Cooking equipment

Knife

Sitting mat

Fire strikers

Belt kit

Advanced Medical kit

Satellite phone
Itinerario:
An idea of the 9-day itinerary

Day 1 - Surama Eco lodge
Day 2 - Leave Surama Eco Lodge - Sail the Burro - Arrival camp site - Learn to put up camp - Camp routines - Personal Hygiene - Wildlife spotting
Day 3 - Continue sailing on river - Reach permanent camp - Setting up camp - relax - Afternoon fishing - Wildlife spotting going back
Day 4 - Bow shooting - Walk in the forest - Plants Eatable/of use/medicinal - Fishing
Day 5 - Fishing day - Looking for giant river otters - River monsters - Traps -fishing - prepare a jungle meal - Caiman catching in the river at nighttime.
Day 6 - Relaxation in the camp - Bow shooting competition - Wildlife spotting at night
Day 7 - Cleaning camp - Start trip back towards Surama - Set up camp for the night - Wildlife spotting/Hunting on the river with locals
Day 8 and 9 - Take down camp - Sail towards Surama - Arrival landing - Lunch at Surama Eco Lodge - Tour ends
Información sobre el vale
Para esta actividad puede presentar un bono impreso o un bono electrónico.
¿Qué es esto?
Información del operador local:
En su bono de confirmación encontrará la información completa del operador, en la que se incluyen los teléfonos locales en su destino. Nuestros jefes de producto solo seleccionan a los operadores más fiables y expertos en cada destino, para ahorrarle trabajo y asegurarle tranquilidad.
---
Todas las ventas son definitivas, y en caso de cancelación se cargará el 100% del importe.